Hackmores / bosals
A hackamore is basically a more refined rope halter. It's a more subtle communication tool & works on pushing the horse, instead of the rope halter which involves a greater pull action. The rider needs to have very good & sensitive hands to use one. It's not a beginner / intermediate rider tool. If it goes wrong it goes badly wrong. If you get one it must be of excellent quality or it'll cause pain, and it must fit your horse EXACTLY, or it will also cause pain. The place to get them (4 month waiting list) is with Micha in Germany. He is excellent and I got Ozzie's there. Mention my name when you order if you like. Read my review here.
When your hackamore arrives, you MUST get someone experienced with hackamores, Steve Halfpenny or Jeff Sanders to fit it for you the first time, show you how many wraps it needs and how to tie it, and also then you teach you the technique about how to ride in it. Do NOT get a hackamore / bosal if you cannot meet all this criteria as otherwise you're walking yourself straight into serious problems.
How to tie the mecate to the hackamore / bosal: https://www.youtube.com/watch?v=NMgya9d_8L0
Saddle fitting & bad Irish saddle fitters:
This is a nightmare currently in Ireland. I've seen bad saddle fits which were said to 'fit' – my own horse included – and which actually didn't fit the horse and caused pain!! My own poor horse had to get a physio out to after two saddle fitters, approved saddles didn't actually fit him. I have now got zero tolerance for people who say they are saddle fitters and causes horse pain and charge you for the pleasure. 100% buyer beware. Read more here. One particularly well known saddle fitter is unable to fit a saddle correctly (he's got it MILES wrong on at least 2 horses I know well) OR evenly flock a saddle.
So before you call any saddle fitter, you should watch these 9 quick Schleese Saddle Fit videos on youtube – it'll take you just 15 mins.
The best (only!) saddle fitter I found who is good is a guy in Cork called Phil Richardson, tel 089 4170150. The rest of the fitters and 'experts' in Ireland I would not touch with a barge pole. I have seen the damage done first hand.
Buying saddles – General
If you are jumping, then you need a jumping saddle. If you are not jumping, if you are just doing flatwork, then you really need a dressage saddle if your budget allows. Jumping saddles and a lot of GP saddles are forward cut. This forward cut means the knee roll area will block your horses shoulders when you are doing any type of flat-work or arena work. So any nice bends and sideways movements you want will be restricted by the cut of your GP / jumping saddle. So – if you can – and you jump & ride flat, you're looking at 2 saddles.
Dressage saddles
You'll notice most dressage saddles on donedeal are 'medium' fit. 99% of them will probably not fit your horse! Any medium's I've seen have ended up being very narrow indeed. Stand in front of your horse and look at his body. It is an upside down V? Is he a round circle? have some idea of his shape before you go looking on the internet. Also – NEVER trust a sales person. If you go to a saddle shop in Ireland, from all experiences I've heard, 99% bad, THEIR goal is to sell you a saddle. Their goal is NOT to sell you a saddle that fits. Buyer beware.
Sommer are the German brand. They have very nice adjustable width dressage saddles, and she mentioned were the Passion DS (with a deep seat), Opus DS (cheaper) Marakesh (more general purpose, and good for people with short legs), Esprit Athens DS, Alpha Vaquero, all to be found here. High quality adjustable saddles and very well known in Germany. The more I see the more I reckon having a saddle you can adjust the width in is a very good idea, if you can't try 20 more traditionally made demo saddles on and pick the one that suits you perfectly.
In general for dressage saddles, the range in stock in Ireland is limited to just a few brands, so not a huge amount of choice really, and the brands are not very well known dressage saddles. You could be better off with a German barok saddle.
Barok saddles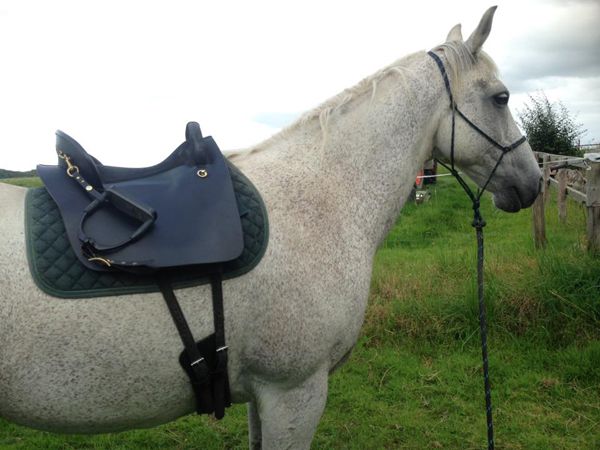 Barok saddles are not to be found much in Ireland but Deuber the German brand do a great selection of treeless / and 100% adjustable gullet (yes I can make this saddle as wide or as narrow as I need to!) barok saddles called 'Startrekk'.
I got one to try on my round, short, flat backed Connie. Its on its widest setting, is lovely and short and seems to fit with no issues!! There are also other nice Deubers in different ranges.
The person to talk to about them is Catherine at Breathe Saddle in the UK. Tell her Elaine sent you and she is very helpful and may have a demo you can try. I LOVE my Deuber. While it has a leather tree it feels exactly like a traditional treed saddle. Didn't slip at all when Oz did a few hops, and I feel really secure in it, a bit like in an Aussie
stock or western saddle, due to the raised pommel & cantle parts.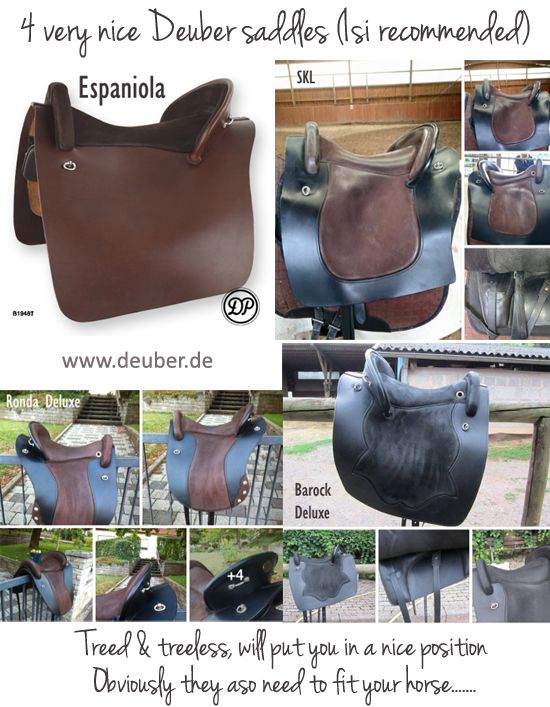 Sommer are one of the few brands that do both a upside down shaped 'V' tree (like most trees) but also an upside down 'U' shaped tree, for horses that are very broad right along their spine.
Sometimes you can pick up second hand Deuber & Sommer saddles on the German ebay site (google your saddle name). Here are some Deuber saddles of various styles that will put the rider naturally into the shoulder – hip – heel position, and not have you sit too far back. These are all different styles / designs so obviously you need to try them with a proper saddle fitter to ensure they fit.
Barock Treeless Saddles:
If your horse has a hard to fit back, you could try the Barefoot (treeless) Barock / Spanish saddle, which is just launched & is good value. Designed by a physiotherapist & made of leather.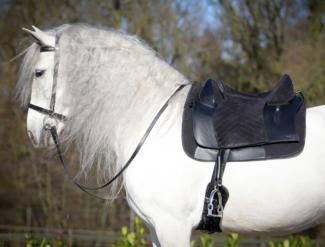 Barepack pads
If you are in the unfortunate situation like many of us that have a saddle that doesn't fit, as a temporary measure here are some very nice bareback pads. The Grandeur are the fanciest and here is more of a mixture of prices. I got one and its genius. At the last clinic it was used by over 50% of horses and 2 people are going to buy it.
Stirrups
The most comfy ones for me seem to be the ones that have a 45 or 90 degree angle where the stirrup leather attaches. You can get icelandic ones like this from Stubben, or here is my review of the very nice MDC stirrups which I have used every day since I got them.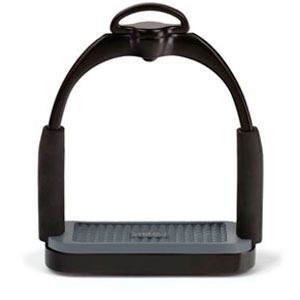 Horse riding posture & fixing bad habits:
Honest Horse Riding – App & online course
Wireless PA system (free postage)
I got one very like this one from this online company (my one is white but it looks the same – bluetooth, ok to use outdoors, no wires needed as it will run off a battery, includes headset) and it works very well for clinics & free delivery to Ireland: Ibiza Port 15 VHF-BT-WH 15″ PA Speaker 450W
Analysis of some internal issues & your horses health
Rose at Equine Radionics can analyse a hair sample. Here is feedback from a friend who used this service: "I got a hair sample done on my mare this year when her behaviour started changing – best €50 I ever spent, she identified starch intolerance, low B Vits and acidic hind gut. Put her on all the feeds recommended and the mare is amazing – I couldn't get muscle on her back end and she would work for 10 mins perfectly then start resisting through her shoulders and refuse to go forward. I bred this mare so know her backwards and it just wasn't like her – the starch intolerance was causing congestion in her muscles. Changed her feed and she is working beautifully (way better than I ever thought she would!)" For curiosity I'm going to try it with my horse & will report back.
Food & supplements
– Speedibeet, molasses free beet
– Low calorie balancer good for native ponies – Topspc Antilam
– Get tonics from Claire at the Animal Herb Company, 0469430383
– Natural Equine Supplements from http://www.edhya.com/en/
– Vit B from Forans
– Mojo bracelets from mojoireland.ie
Bodywork:
Emma Robertson Chartered Veterinary Physiotherapist, based in Cork, cover Munster area. 087-7853156. Emma came out at very short notice & fixed my poor horse after a bad saddle fit went wrong & he was sore. Recommended – Emma or similar should visit once a year. If your horse has pain in his body (that you don't know about) Emma can tell you. Which is priceless info.
Kitty Shanahan Equine Cranial Osteopath, based in Dungarvan but covers most of Ireland (087) 268 5900
Sean Wall American trained chiropractor, also does human practise 0872493828
Equine Therapies Ireland Infrared Thermal Imaging, Performance Enhancement and Rehabilitative Bodywork. Niamh Fitzpatrick, Kildare, will travel. Tel: 0860211923
Insurance
If you are hosting an event & need horse insurance, I went through a lot of options and the two that were most helpful were Brendan at http://www.swaa.ie/ and John at www.wrightcover.ie.
Alex Technique:
Maria O'Neill (Alexander Technique), Ballymore Eustace, Co. Kildare. Tel: 087 2672920 Email: poise4life@mariaoneill.ie
Rope halters:
Rob & Lodgeropes in Australia
Improve riding & horsemanship
My #1 all time favourite horseman is Steve Halfpenny. You can get his new Groundwork DVD & also join his membership community and get online video assessments which are wonderful. Learn more at www.stevehalfpenny.com
Dentist:
Maria O'Rourke – Travels around the country. Does my horses teeth very year and is very kind & gentle with them. Maria O'Rourke
John Collins 0872066124 – Travels around Tipp, possibly further afield.
Annie O'Callaghan, Cork. Her number is 087 6004666
Marc Higgins equine dentistry, 0876884908 based in Longford & travels.