Buck Day 1 AFTERNOON (second bunch of horses)
– Circle on ground
– Imaginary box is drawn all around your horse. The box shouldn't be the size of the arena! It should just fit around your horses body.
– Center of this rectangle / imaginary box is the safest place for horse
– People think everything is going perfect because you aren't noticing and observing enough. Then your horse spooks sideways.
Riding
– Serpentines, use your inside hand in time with inside foot.
– First do exercises with 1 rein only.
Serpentines
– 1 straight step with new leading foot before you ask the horse to bend in the other direction.
– You should know in walk and trot, what lead your horse is on so you don't ask for an incorrect canter lead.
– Do something mellow.
– Then do something athletic (trot – halt).
– Then back to mellow stuff.
– Get your horse really walking out.
– Walk very slow, then very fast.
Short Serpentines (one rein for 30 minutes) (gets horse moving from hind and collecting) NOTE: THESE REALLY WORK!!
– Bend horses neck 90 degrees laterally. Ride small circle around cowboy hat.
– Feet to be even on the small circle, not more hindquarters or more forequarters.
– 3 steps each way. Then 1 straight step going forwards.
– Goal: to swing neck real clean with no brace when its straight.
– The inside front foot lands very softly, hindquarters are engaged.
– Whichever end is doing less, get it to do more. Don't get the fast end to do less or you're end up with a very slow horse!
– This does so much good.
– With hackamore, start wide arm outwards to begin flexion.
– Do the semi serps before the soft feel exercise.
– Only change rein when something positive comes through.
– Do for 2 weeks = an AMAZING horse!
HALT, LATERAL FLEXION, MOVE 1 FRONT FOOT SIDEWAYS AND A LITTLE BACKWARDS
– Halt
– Lateral flexion
– Arms out and a little backwards, and move 1 front foot sideways
– Release only when front foot moves
– If not as good as this going right circle, you've got a right canter lead issue.
Halt – soft feel – relax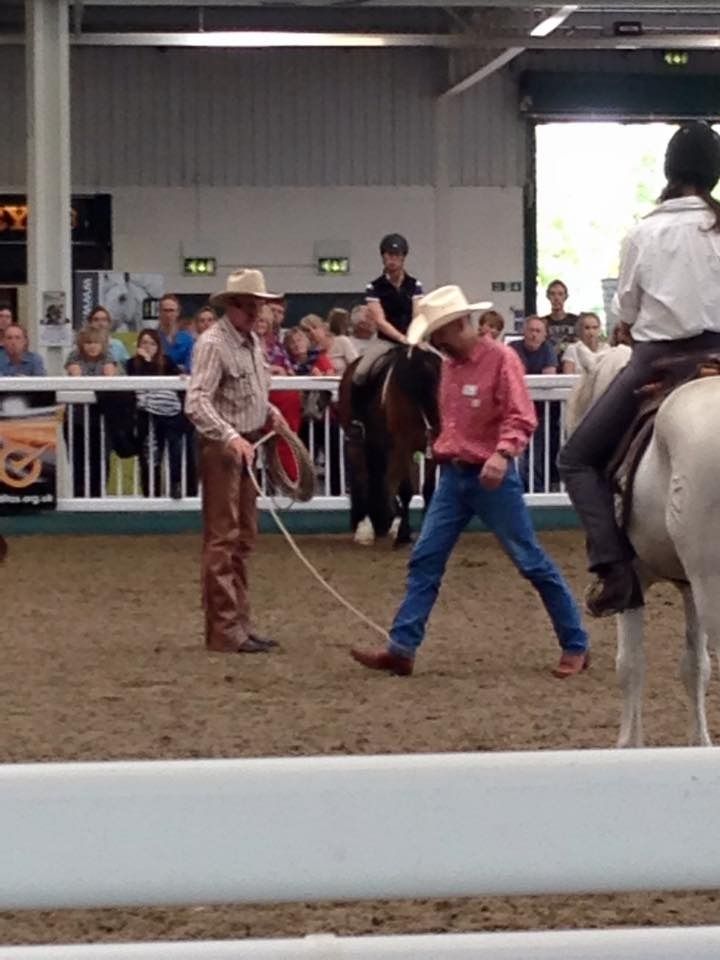 Buck got down on foot and roped a guys foot and then played around with timing. At one point with bad timing he nearly half tripped Tim! But when Buck used good timing Tim was able to walk fine 🙂
– Walk + soft feel on straight line.
– Lift your hands a little up to get head elevation.
– You'd like the horse to rise up at the withers, and
– Then release.
– Walk straight – soft feel – slow down using your body, then walk out again.
– Do transitions within the walk (slow walk, fast walk). This will really help your canter.
– Back left circle, right fore behind.
– Back left circle, right fore in front.
– Buck's horse has a busy mouth. The more Buck rode, the quieter the horse's mouth gets as the horse felt more confident and relaxed.
NOTE: TO ALL THE GADGET PEOPLE OUT THERE -DON'T STRAP YOUR HORSES MOUTHS SHUT! FIX THE PROBLEM AND THE BUSY MOUTHS GOES AWAY AND YOU GET A HAPPY HORSE.
– Pulling on 2 reins, when a horse is pushy will not work. You need to do one rein stuff instead.
PART 4 COMING SOON!
REMINDER: If you have enjoyed this report, come & watch Steve Halfpenny teach on Sun & Mon June 28-29 in Tipperary. Tickets €60 per day, email CHOCOLATELABHELP @ GMAIL.COM for more info.