After a great clinic with Isi Brenner, I've been practising our groundwork and seeing good improvements. But I realised that I needed to know more about the WHY….
I'm familiar with various exercises and patterns. But I need to know when to do them, why I should do them, how much to do, what result I'm looking for, how to improve them, when to stop doing them and a bigger picture of where they all fit in with my horse.
So last night I started to look around my collection of horse books, and I found the largest book I had. It is True Horsemanship Through Feel by Bill Dorrance. Its been in my room for a good while now, but I can't remember ever reading it. Doh.
So I cleared a few hours and sat down to get started.
The first thing that struck me was that it is really a dictation of Bill talking. So while its a large book, its very easy to read.
I've got up to page 57 in 24 hours (chapters 1 to 3) so as I read I started to take notes on the back cover. Here's what I wrote so far: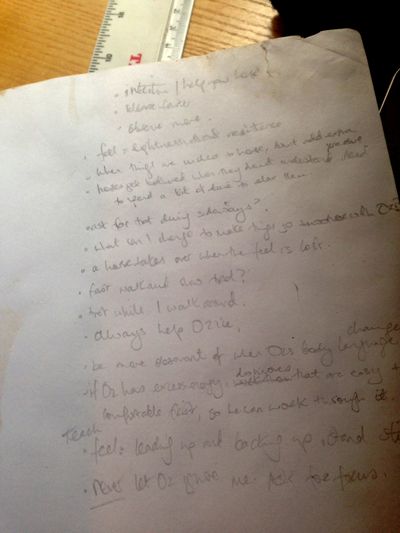 The three biggest things were:
1. Focus always on helping my horse
2. Release sooner
3. Observe more
Bill also mentioned it takes a long time to get good with horses. So that was nice!
So I came up with a plan.
I went out this morning to Oz with the following:
1. Chair
2. Halter & rope
3. Bill Dorrance book & pencil
4. An umbrella in case it rained
My plan was to sit out there for about 2 hours, and then do 10-15 min little sessions of horse stuff, and in between sit on my chair and read more from Bills book to see if I was doing it right.
So I got all set up and off I went.
Oz immediately came over to say hi (great indirect feel as Bill would say!) and hung around for ages while I reread my notes about what I needed to prioritise in my head.
With with my list from Isi, I wanted to do all these things BETTER!
BETTER meant:
1. Always think of how I can help my horse
2. Release sooner
3. Observe more
4. Changing stuff to make it go better for my horse
5. Observe more!
6. Observe more!
7. Observe more!
Its remarkable how fast things change when I make a change.
We did three sessions… when I got a lot more observant I got Waaaayyy better results.
When I focused on helping my horse, I got a more relaxed horse.
After each mini session he just hung around me while I sat and read more.
Yes those are Connemara teeth marks on Bills book when Oz wanted to read a bit of it himself!
When I focused on releasing sooner and doing else in the first place, I got a lot more accuracy.
All of our exercises were much better today than at the clinic, with these thoughts in my mind at the same time.
This book is honestly worth its weight in gold.
I was thinking about ways to use this info to keep Oz more relaxed in trot, so I'll let you know when I go back out for our mini sessions (with Bills book) this afternoon.
As horse people, it probably would help us (me anyway) to think more (maybe 20 mins of reading a book like this to get some big ideas to the forefront of our minds) about what we want to offer our horse, in advance of handling our horse.