These are my quick notes from watching Steve Halfpenny share his knowledge over 3 UK clinics. If anything doesn't make sense its 100% my fault 🙂 Steve, all the riders & all of the horses were so inspiring to watch.


GROUNDWORK – CIRCLES
When the slack goes out of the lead rope, move the HQ out more to get the slack back into the rope.
When Steve does groundwork his hand is at about waist level quite often. Most students hands are a lot higher.
In groundwork, if your horses raises his head to go forwards or his nose gets near his chest when you back up, then you are pushing & pulling too much.
In groundwork if your horse is rushing, you can twirl the rope in front of him.
If you want to scratch your horse, scratch on his opposite side to the one you are standing on. Then he won't push into you.
The goal is not to need to use sticks or ropes.
There is a spiritual side to this. Have you ever got a feeling when a horse stares straight through you?
Physical, mental and spiritual: What are you working on today with your horse?
If your horse is falling in on the circle in groundwork, walk a little more towards his shoulder to block him from falling in and think about walking straight through his shoulder to encourage it to move out.
When your hand is on the halter knot under his chin, it communicates the full balance of the horse.
EXERCISE: Put hand on halter knot. Walk a circle (you're facing backwards). Ask the inside hind to step under. You can do this by touching the back of the hind leg about where it connects to the body, or using a flag. .Also you can slow down the front end to move the HQs out. Then backup without a pause.
FQ YIELD ON GROUND:
Ask your horse to backup in a circle with his head tipped out. Only when you feel that his weight has shifted to the HQ, do you then ask for a FQ yield. It's all about balance.
EXERCISE PIAFFE:
Do the previous exercise at a trot (ask inside leg to step under on a circle). Straighten the horse up for a few strides then release, to begin piaffe.
TIP IS YOUR HORSE IS PUSHING ON THE GROUND:
To stop forwards, change what you hold in your hands. So now you're facing forwards and the nearest hand to the horse is holding the rope. Twirl the end of the rope in other hand in front of the horse.
SHOULDER IN POSITION
When doing shoulder in on the ground, your belly button should point just in front of your horses nose.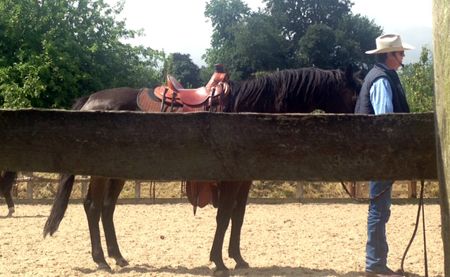 RIDING
Walk a circle. If the shoulders are falling in them move them out a little. When the inside fore hits the ground, the outside hind is about to leave the ground, so then ask for a HQ yield to the outside. Do this with your seat / leg / end of mecate / touch of stick, etc. Do not pull.
VIDEO EXERCISE: Call out when each leg is about to leave the ground. Video it. Then watch it back to see if you're right.
Steve's horse Gandalf can trot and then stop the front legs, trot the back legs around in 180 degrees keeping the same rhythm and then trot off again. TIP: Don't use the hands very much, as if you do you'll slow down the trot.
EXERCISE: Put lariat in round circle on ground. Do a circle just outside it, and you are not allow to step over it!
When you put your weight on your right seat bone, your horses body should arc around it without any other cues.
HOW TO HELP A HORSE WITH A LONG NECK WHO IS HEAVY ON THE FOREHAND:
Ride a shoulder out along the fence line (horses head near to fence, HQs near to centre of arena). Make sure the inside hind leg steps under a lot. Close the fingers of your inside hand the second you ask inside hind leg to step under. End up facing the fence. Then do the other way. Repeat.
ON THE FOREHAND: Once rider remarked that when she drops her eyes her horse goes on the forehand. So look up & where you are going.
IF HORSE IS RUNNING OUT / PUSHING OUT THROUGH THE SHOULDER:
Slow him down.
Move the inside hind leg under more (maybe a lot more!) and then walk straight through the middle of the circle.
IF HORSE IS LEANING IN ON A CIRCLE:
Leg yield out to make the circle bigger.
Think about pushing the shoulders out.

BREATHING
When a horse blows out when you are riding him, this is really good.
You should be breathing also.
RIDER POSITION:
When you need to put your leg back a little, take your weight off that hip, in order to keep your body straight and not start tilting.
WALK TO TROT TO WALK (REPEAT)
Do lots of walk to trot transitions while concentrating on when each of the front legs move, in both gaits and during all of the transitions.
DIRECT REIN RIDDEN EXERCISE:
Ride a circle, head in a little, shoulders not falling in and inside HQ stepping under in a nice bend through the horses whole body, the same shape as the circle you are on.
Then ask inside front leg to cut straight across the inside of the circle, to make sure you haven't lost the direct rein.
GENERAL
CONNECTION:
Don't do things that break your connection to the horse. Connection is when both of you are listening to each other. But for example, at halt when I give Oz all of the reins, I lose the connection. Oz's mind stops thinking about me. The physical result of this is often a head toss. When I halt and give Oz some space with the reins, but not throw the reins away, Oz's mind stays with me and I do not get a head toss. So I need to observe better when I lose Oz's mental connection to me, did I cause it? I probably do a lot of the time but was previously unaware of this.
STEVE HALFPENNY QUOTES

"A head position is not collection. It is not true softness. " STEVE HALFPENNY
"When you feel you need more rein you need to do something else" STEVE HALFPENNY
"I've been doing less with the reins, and more push, like I've seen you doing for the last few years. But now it's finally starting to sink in." Ben @ STEVE HALFPENNY CLINIC
"Don't separate your thinking from some sort of change in your body" STEVE HALFPENNY
"Get lighter. Do less. Keep the softness." STEVE HALFPENNY
"I should only see your hands move when you get ready. Not when you are ready" STEVE HALFPENNY
"Do anything but pull" STEVE HALFPENNY
"I guess if he (the horse) didn't do it himself, then it wouldn't be self carriage" STEVE HALFPENNY
"Horses that look long in the neck are heavy on the forehand" STEVE HALFPENNY
"They tell you what you need to do. But sometime you need a translator for a while" STEVE HALFPENNY
"Once I started to think about balance, everything became so easy". STEVE HALFPENNY
"The bend in the neck tells me what's really going on in the whole body". STEVE HALFPENNY
"It's like fishing for a shark. How can you get connected and keep the connection without breaking the line?" STEVE HALFPENNY
"Every time you pick up the reins you expect something to change" STEVE HALFPENNY
"If your horse is heavy, don't do more with your hands." STEVE HALFPENNY
"If a horse is relaxed, then I'd be pretty sure they know what you mean" STEVE HALFPENNY
"What's at the top of your list? Relaxation or obedience? Mine is relaxation really". STEVE HALFPENNY
"When you get taller in the saddle, then I'm looking for piaffe or passage" STEVE HALFPENNY
"You decide in your mind this is how I want it to feel. Then you go back and make it a reality". STEVE HALFPENNY
"You decide how sensitive your horse is going to be" STEVE HALFPENNY
"Get lighter. Do less. Keep the softness". STEVE HALFPENNY
"Once you get relaxation then it's pretty easy to do lots of stuff". STEVE HALFPENNY
"Every time you think you've got something right, do it again with less energy" STEVE HALFPENNY
RANDOM THOUGHT :
"Imagine if every thought you had became true. How would that reshape your strategy on thinking?"
LEARN MORE: If you haven't already, grab a copy of his new Groundwork DVD if you'd like to learn more at www.stevehalfpenny.com