You may be familiar with my sorry story of buying saddles that don't fit from saddle fitters that wouldn't know one end of a saddle from another. You can read about my bad saddle fit drama here.

During the process I learned a few things:
1) Never take advice from a sales person. Do not believe a word most Irish saddle fitters tell you. They have no idea what they are saying and would sell you anything if it made them money.

2) A Connemara is often a wide type of native breed. My Connemara will not fit into a medium width saddle.

3) I want a saddle that puts me into a nice balanced shoulder – hip – heel position. I do not want to look like I'm sitting in an armchair. So I can't buy any GP or jumping saddles as this is where most of them sit you. Also when you sit too far back, on a saddle that's too long, there's a good chance you're hurting your horses back. This is a common problem with saddle fit. I also can't buy them as the forward flap will restrict the lateral movement my horses shoulders can do.

4) I need the fast & good way to learn about saddle fit myself before I look at any more saddles. So I wanted these excellent short videos and phoned / emailed just about (at least 13!) every saddle fitter in the country. I found ONE competent saddle fitter in Cork – Phil Richardson – and paid him to come up & spend a few hours with my horse & I, going through every inch of his back & build, so I'd have a crystal clear picture in my head of EXACTLY what type of saddle would fit my horse.

5) In the meantime I rode in a Grandeur bareback pad, look for 'Fellsattel' which is the best bareback (and unfortunately probably the most expensive at €500 new), but you can pick them up second hand on facebook groups and ebay sometimes.
At this stage I had committed my horses saddle requirements to memory, thanks to Phil & the saddle fit videos.
Now I rang up every tack shop in Ireland to ask if they had any dressage saddles in stock that would be WIDE and SHORT and FLAT…
The answer was there are very few dressage saddles in Ireland, and none of them had all 3 characteristics.
So now I had to start looking abroad. There were a few options of brands that had a good reputation that I could order a custom made one from, but I decided against that as I've heard the horror stories of people paying thousands for a custom saddle which actually didn't fit the horse when they got it.
So I had to:
1) Go abroad (UK – as I was going to horse events there anyway)
2) Look at everyones saddle
3) If I found a potential short/flat/wide, then some way find a way to TRIAL the saddle. If it didn't work I could return it with no problems and try the next one.
In about 6 weeks I had great collection of lots of different saddles and brands photos on my phone. Everyone at the UK events I attended were lovely and let me look at their saddles, and told me what they liked and didn't like and were super helpful, both riders and saddle companies alike.
I also had many friends help me out – Chris, Ella & Isabelle among others who knew about some great German brands & tips for researching on ebay.
My options, for my round, short, flat horse were turning out to be:
Lavinia Mitchell saddles (UK) – 20% of more of the riders at Buck rode in these saddles. I met them at Aintree and liked their products. More importantly I think their width 3, 16.5″, extra short dressage saddle would have been close to what might have worked. But getting this to try as a demo model wasn't working out, but there is a Lavina saddle fitter coming to Ireland soon so it'd be great to meet her & learn more.
Deuber Saddles (Germany) – These are known as being really nicely made and they have a 100% adjustable gullet which appealed to me. Also they are short – YAY! So I kept an eye out to see if any of my UK friends had Deubers.
I saw the Buckeburger model (looked great) but the panels were too angled for Oz (whose very round in shape) and there was too much rock in it (those online videos & Phil Richardson lesson were priceless as could tell without my horse if a saddle wouldn't fit him!).
But it'd suit nicely a horse who was just a bit less round than my horse. I do know two friends who have this saddle for short backed horse and loooove it. They do the barock style which I really like, and suits me as I don't do a lot of jumping and there's great shoulder room.
Another Deuber model I saw someone ride in (I think Ella!) was the Espaniola. It looked great – Ella sat in a lovely position as it has a nice flat seat for the rider. The saddle on closer inspection had a 100% adjustable gullet, and less rock, and flatter panels. It was actually a really well made leather treeless saddle.
I knew Karen another friend of mine had a 'demo' Espaniola model, so I was looking forward to catching up with her in a few weeks. When I saw the demo model with Karen on her beautiful horse, who's a little bigger but built in a similar fashion to my horse, I though there's a 50/50 chance it might work.
Here was the problem – I couldn't just buy one as if it didn't fit I didn't want an extra saddle I couldn't use. Was there any way I could get a demo model sent to Ireland?
Catherine at www.breathesaddlery.co.uk, who sells some very nice saddles from a number of makers including Deuber (there are no stockists in Ireland now), agreed to allow me to try out Karens demo saddle in Ireland. Being without at saddle for 3 months now, happy was an understatement!!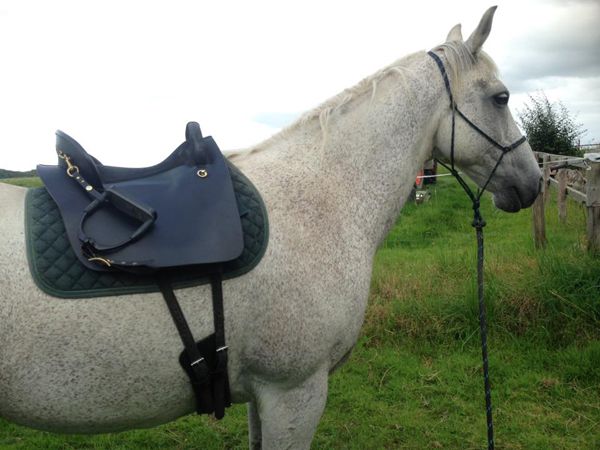 It arrived safely and I put it on my horse & played around with changing the gullet width and moving the panels closer & wider together. Catherine was great for email support. Here is the list of things I checked:
1) Saddle width – my horse is round 🙂 so I have it at its widest setting.
2) Lowest part of the seat – looks nice and in middle of saddle.
3) Gullet width – I've set this to be wide which is great.
4) Length – brilliant, doesn't put any weight past his last rib 😀
5) Girth straps – nice to have one near the front for my horse, and balanced well by the one near the back, should work well
6) Good wither and vertabrae clearance
7) No bridging
8) Panels aligned with the shape of my horses body thanks to the treeless style of the saddle
9) Horse seems fine in different gaits GW & riding, no odd behaviour
10) Fine to get up & dismount.
11) Fine to go forwards, backwards and lateral work.
12) No soreness along back afterwards.
13) Comfy for me to ride in
14) Does not slip right or left – Oz kindly did a bit of a spook and the saddle didn't budge. I felt so secure in it!
15) Walked with Oz with my hand under saddle near shoulders and there was no pinching
16) I had a nice shoulder – hip – heel position in it as it had me sitting in a nice place (not too far back) on Oz's back
So it had passed 16/16 of my list… I was really struggling to find something wrong with it!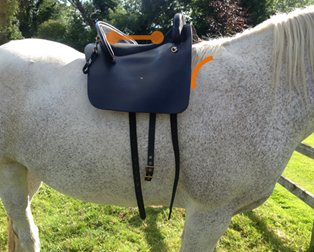 Catherine was really helpful with where to put the panels so it'd work best and even sent back edited photos for me. The flat seat you can see in the above picture is what you want – its so hard to find in saddles and its fantastic to put you in the right place.
At the end, it does seem that I have found a saddle that my horse is happy and comfortable in, and just as good, a saddle that puts me in that nice elusive balanced position. It was great both that I had and could myself test the 16 point list above, plus having Catherine's help who is used to fitting the Deuber saddles.
The upshot of this story:
1) Learn about saddle fit by watching these videos (its not actually that hard)
2) Do not trust 99.9% of saddle fitters
3) If you need a proper saddle fitter call Phil in Cork and avoid 99% of the rest!
4) If you need a short wide flat saddle, email Catherine at breathesaddlery.co.uk & have a look at the Deuber saddles.
One Response to "A wonderful saddle for a short backed, wide, flat horse – Deuber Espaniola review"