Isabell Brenner, one of Steve Halfpennys's Silversand / Light Hands Equitation instructors was over in Ireland for her second clinic in Tipperary. I met Isi a few years ago in Australia and was totally blown away by how beautiful a rider she is.
So when I met her again at her home in Germany last year at the Jeff Sanders clinic, I absolutely had to invite her to come to Ireland to teach.
She arrived last Thursday and we had fun doing some tourist things in Cashel, including helping a friend with a saddle fit issue, via SMS photos, while on a tour of the rock of Cashel (technology is great) which was pretty good multitasking!
We had a 3 day clinic then from Friday to Sunday, which was sold out before Isi left the country after her first clinic. It was great to see everyone back again to learn lots more. It was hard to believe how much work everyone got through all weekend. Saddle fit was much better this time around, and anyone who needed it borrowed my barok saddle or bareback pad, both which worked really well (especially the bareback pad) on a good few horses. Here is the story of how I got on with Ozzie.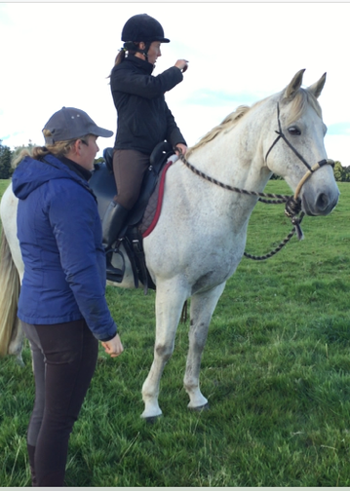 Continue reading 'When you get the timing right the movements are effortless — Isi Brenner clinic report Sep 2015'»
By