My poor horse has got a sarcoid on the inside of his off hind pastern. He's 13 years old and this is the first one he's got. I'm planning to keep a diary with pics of how I'm treating it in the hope its useful and I can figure out how to remove it. It's like a round protruding warty bump. It's not in a good place as he can hit it with his other hind leg, which is not good at all as you're not supposed to disturb them as they can spread if you do.
Here is a list of things I'm planning to try:
Botanina cream (no change after one week or using cream only, but I should have used the wash as well)
6 weeks of using human wart cream, no change really
4 weeks of duct tape, no change really
4 weeks of apple cider vinegar, no change really
Organic coconut oil, tried for about 2 days no change
Vitamin C
Vitamin E
Crest toothpaste
Zoviraz
XXterra, also known as blood rot cream, found at my vet meds
Castor oil
Botanica wash & cream
Indian healing clay, calcium bentonite mixed with apple cider vinegar
Photo July 9th:

July 9th – July 16th: Daily application of Botanica cream. Result: Hasn't got smaller. Not sure if its red because it has been rubbed a bit by other leg or due to the cream.
Photo July 14th:
July 16th: Vet came out, confirmed it's a scaroid and suggested we get some human wart cream in the chemist. This is now being applied twice a day, instead of the botannica.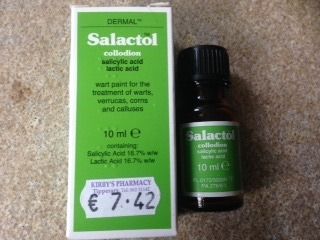 July 16th – twice daily ongoing: Human wart cream/oil applied twice daily. Result after 10 days use on July 28th: Looks like more of a crust on it now, but size about the same. Hasn't got bigger anyway. We also trimmed the hair around it a little to make it easier to put on the cream/oil.
Photo July 27th: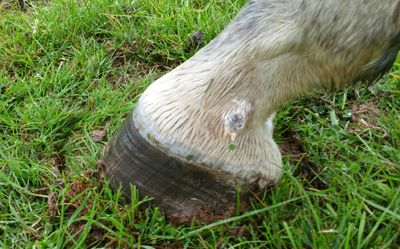 Difficult to see but its about the same size and crusty. I researched more on the web. Heard things about dandelion and others. Found this info on a site for children with warts. I've also heard from people that thuja and xxtreea have cured warts. Will keep going with human wart cream but they are options if that doesn't work.
Photo July 28th:
Put on duct tape over the sarcoid and vet wrap to keep it in place.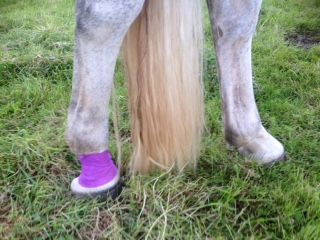 The lady in the health food shop said not letting it get air is a great thing. She also recommended rubbing the inside of a banana skin on it. Will keep duct tape on it for the foreseeable future.
Went into town and got the following. As well as putting on more things I'm now feeding Oz a handful of carrots twice a day. He savoured every mouthful!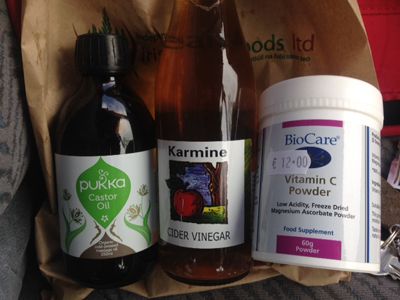 Going to start on the apple cider vinegar tomorrow as it's the one with the fastest time to see if it works. In addition to the human wart cream, duct tape & carrots.
Photo July 28th: After 10 hours of duct tape.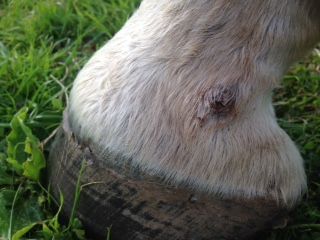 I've also read that some people have used crest toothpaste (might now be called Oral-B) and have seen good results in 10 days.
July 29th: After 24 hours of duct tape, the wart is not crusty any more. Now its a light pink colour. Put on apple cider vinegar on cotton wool this morning under the duct tape, for 3 hours. At lunch time will remove this and then do the usual 2 applications of wart cream at lunch & evening time.
July 29th: lunchtime Went out to take off the vinegar cotton wool. Oz was annoyed it looked like the vinegar was stinging his leg. Didn't really want to stand still. No crust. Got it off, put on wart oil and duct tape. Wasn't able to put on vet wrap to keep duct tape in place as Oz was a bit fed up about his leg. Will go back and put in on it an hour or two. But there is something happening now to the sarcoid. Conclusion so far: Not letting it get to the air is very good as it stops the crusty buildup & you have more of a hope of whatever you put on it having an effect. Cider vinegar is doing something as he feels it now.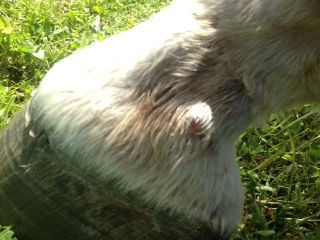 July 30th:
After 24 hours of first putting on apple cider vineger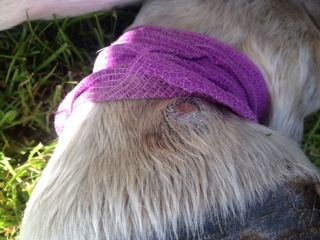 July 30th: Day 2 of putting on apple cider vinegar for 3-4 hours, along with duct tape over it secured by vet wrap.
July 31st: After 3 days of apple cider vinegar for 4 hours per day. It doesn't sting him anymore which is good. Duct tape all the time. Wart oil at lunchtime. Going to start putting on vitamin C powder (mixed with a few drops of water) each evening as well. Lots of carrots.
Aug 1-3: I was away so just some duct tape and a day off.
Aug 4: Duct tape & vinegar back on.
Aug 12th: Apple cider vinegar going on each morning. Normally this has fallen off when I go back out in a few hours, so experimenting with more duct tape to keep it on. Then wart oil each evening. Both times duct tape & vet wrap go over them. Difficult to say if its getting smaller or not.

Got botanica wash to go with my botanica cream up at the RDS. They reckoned the wash was good to also remove the scab so its easier to treat. Must to a similar job to the duct tape hopefully.
Aug 13th: Tried organic coconut oil at lunchtime. This is the picture from 30 mins later. Not a lot of change I think – but actually the center is more red now than yesterday. A friend of mine reported immediate results (30 mins) so will try it again tonight too & report back tomorrow.
No immediate improvement with coconut oil after 2 days so I stopped it. back to duct tape, vinegar & wart oil.
Aug 18th: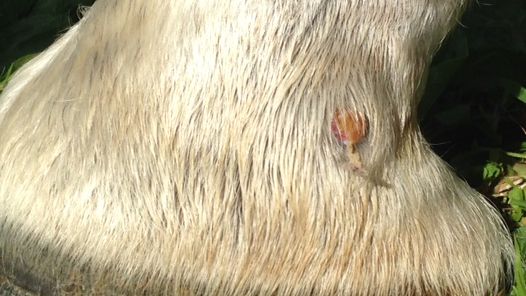 Got advice from another lady today who said a few weeks of blood rot applied twice daily fixed a sarcoid she had on her horses face. Will look into it.
Aug 23rd: Time to try a new approach. Going to put Castor oil only on 2-3 times a day and see how it goes. Also – I don't want to jinx myself but while its hard to say, sarcoid definitely hasn't got any bigger, and I THINK its got a little smaller!
BEFORE OIL WAS PUT ON:
Aug 24th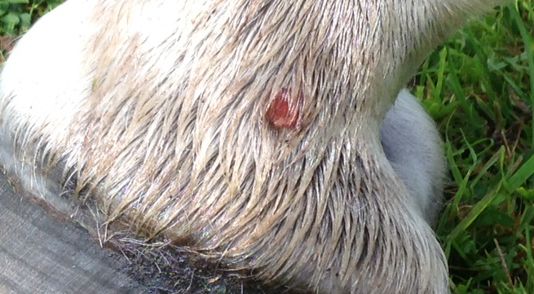 Aug 26th
Castor oil put on 3 times a day. Horse still being fed on a lot of carrots and is very happy with the whole situation. Dad also agreed that he thinks the sarcoid is getting a little smaller!!
Aug 31st
After 2 days of a break as I was away, sarcoid is now crusty. So on went castor oil, then little later duct tape & wart oil to get rid of the crust. PM: It was tricky to stick the duct tape on the caster oil. So I went back to duct tape all the time, and apple cider vinegar on cotton wool in the morning, and wart oil in the evening.
Sep 3 Sarcoid has definitely got smaller. Will continue on again with duct tape all the time, and apple cider vinegar on cotton wool in the morning, and wart oil in the evening.
Sep 4 Definitely smaller. I think the extra bits are the crust falling off. More duct tape & apple cider vinegar on a cotton ball applied this morning& wart oil going on this afternoon.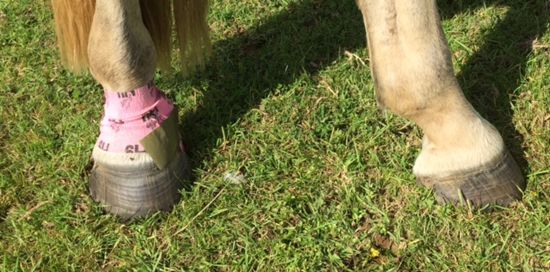 Sep 24 – Oct 17: All treatmnet stopped as I was away for a few weeks. Started again on Oct 17 with duct tape, vet wrap and apple cider put on. Sarcoid pretty small now, but I think I'll keep going now until its completely gone.
Oct 21:
One Response to "10 ways to remove sarcoids – and I hope one of them works!"